25.8.2023
Cable protection: From the design to the functionality check
Cable ducts are the basic building blocks of modern communication and energy infrastructure. The certified OPI PIPELIFE cable system ensures reliable implementation and installation of cable lines, minimizes malfunctions and enables quick and efficient diagnostics.
● Cable design:
Requirement Analysis: The first step in cable duct design is a thorough analysis of project requirements. Cable type, capacity, maximum length, topology, maximum load and other technical specifications must be determined.
Selection of suitable cable duct composition: Top parameters of OPI cable duct, such as circular stiffness up to 14.72kN/m2 and watertightness up to 0.5 bar. enable the design of suitable cable duct components even for the most demanding applications.
Cable route: Using a wide range of system elements, such as radii at different angles, can optimize the cable route, which is essential to minimize interference and mechanical problems. Terrain, existing or planned utility networks and potential buffer zones should be considered.
● Cable duct installation:
Route preparation: Route preparation is required before installation. This includes excavation in the required volume, preparation of a compacted base bed, and possibly installation of supporting structures.
Installation of the cable duct: After preparing the route, the cable duct is installed according to the prescribed standards and installation instructions. The cable must be protected against external influences based on the required load. Routes leading outside road and rail traffic must be covered with soil in accordance with the valid standard STN EN 1610, i.e. up to a grain size of 22 mm. Routes leading in communication (road, track) must be concreted with concrete of class C16/20 in a thickness of 50 to 150 mm, depending on the width/depth of the excavation and the size of the cable duct.
Connection of system elements: The cable is connected to the relevant elements, such as watertight transitions, and branches of different radii. The basic elements of the cable duct have cut edges with marking of insertion depth. Here, too, strict standards for functionality and reliability apply.
Benefits when installing our OPI Pipelife system:
Easy installation: The OPI Pipelife system is designed to be easy to install. The modular design, smooth interior and standardized components facilitate assembly and integration into new or existing infrastructure.
Fast implementation: Thanks to high-end components and simple connections, the system can be implemented quickly. This reduces commissioning time and minimizes service outages.
● Functionality check:
Visual Inspection: A thorough visual inspection is done after installation. Correct placement of the cable, thorough insertion of connections and connections to system elements are verified.
Camera inspection: After the visual test is carried out, a camera inspection is carried out. A camera will pass through the entire newly installed cable to inspect its interior.
Cable route testing: Patency and watertightness testing is done for the cable line. The measurement can be performed by a camera test and a pressure tightness test.
● Security:
Fire protection: The standard version of the

OPI

PIPELIFE

cable is self-extinguishing with a reaction to fire classification of E. We can also supply the cable in a fire-retardant version (EN 61 386-1, b. 13.1.3.2), low smoke, halogen-free EN 50 267-2 - 1a 50 267-2-2.
Water resistance: The

OPI

PIPELIFE

system includes unique

ROPI

transition elements that ensure the protection of the cable duct against water penetration into the cable duct space.
Technical approval: For the OPI PIPELIFE SYSTEM CPQ, our company has a permit for the construction of new cable lines during the modernization and construction of new railway lines, construction of tunnels and reconstruction of stations. Within the Slovak and Czech Republics, our company has already delivered many kilometers of this world-accepted cable duct.
4. Investment protection: For your protection and security, there is product liability insurance up to the value of 2,000,000 EUR.
● Conclusion:
OPI'S MOTTO - "Do it right the first time"
The design, installation and inspection of the cable duct are key processes ensuring the reliable passage and functionality of the cable duct. Adherence to technical standards and correct procedures is essential to minimize the risk of breakdowns and ensure the long-term reliability of the entire infrastructure. Every step - from design to inspection - has an impact on the final result and functionality of the cable duct.
24.7.2023
Why is passive fire protection of buildings important?
Properly designed and executed passive fire protection helps protect human life, property and the environment, and therefore its implementation is essential in every building.
That is why we enter the scene with a clear goal - to bring the revolutionary products of FSi Limited, passive fire protection, to the Slovak and Czech markets, which will change the rules of the game and raise safety to a new level. By becoming a supplier of top products, we add color to the image of security. We don't want to be just players, we want to be the driving force that shapes the new standard and creates a safe environment for the future. Our mission is to provide building designers, architects and building owners with innovative solutions that mean not only fire protection, but a real sense of security and peace of mind. We are proud to be a part of this journey and invite you to join us and push the boundaries together. Safety doesn't have to be limited anymore - we take it to a new level with our passive fire protection products from FSi Limited. Enter the revolutionary era of security with us!
Sign up for our training.
Here are some of the main reasons why passive fire protection is important:
• Ensures the safety of residents and visitors: Properly designed passive fire protection, without the need for additional building structures, helps to minimize the risk of fire, allows people to evacuate and gain valuable time for rescuers to intervene.
• Property protection: Passive protection reduces the likelihood of fire spreading and minimizes damage to buildings and public structures such as tunnels and subway networks.
• Environmental Protection: Sometimes fires can cause hazardous chemicals to be released into the air and soil. Passive protection helps minimize these impacts and protect the environment from pollution.
• Compliance with laws and regulations: Most countries have strict regulations and building standards regarding the fire safety of buildings. Adhering to these regulations and implementing the correct passive fire protection is key to obtaining a building permit and ensuring safety in the building.
• Reduction of fire protection costs: Properly designed passive protection can in some cases reduce the costs of active fire protection systems and flexible lines. This is financially beneficial for future projects.
13.7.2023
Rewan - safe partner
We create innovative solutions focused on communication and security. We have transformed the aquired years of experience into the field of critical infrastructure, communication infrastructure in a complex measure and cable infrastructure protection. We focus on quality, trustworthiness, and we choose our partners with a global impact in mind. For a decade we have been searching and carefully selecting what the market expects. We are a trusted partner for globally respected manufacturers.
5.6.2023
Safety Barriers: What is Crash Test and explanation of PAS-68 and IWA 14-1 classification codes?
Crash tests are an important part of the testing process for products designed to protect critical infrastructure. For a decade, we've been searching and carefully selecting the best products in the critical infrastructure protection industry. Whether it is road blockers, wedge barriers, static and automatic bollards or security gates. We mainly focus on quality, reliability and safety.
Testing is aimed at verifying the durability and reliability of security systems in various extreme situations. Testing uses various methods and crash simulations to determine how well a device can withstand impacts or other hazardous conditions. The aim of these tests is to ensure that the products are able to maintain their functionality and provide reliable protection in case of crisis situations.
The key to protecting critical infrastructure from a vehicle carrying explosive device (VBIED) is a combination of entry restriction and approach speed control, with the final line of defense being an interlock system. Vehicle Security Barriers (VSBs) are designed as life-saving devices, so it is important that they are suitable to combat the ever-increasing types of threats.
Test work carried out so far includes dynamic impact testing with various impact forces, penetration testing and explosive debris dispersion testing.
Nowadays, increasingly higher levels of environmental protection are necessary, which our company can offer you. Designers are tasked with using such systems that are not only safe for today, but are also a guarantee against the increasing level of threats in the future. Our commitment to security also extends to providing first-line services to designers to help them correctly specify and design security checkpoints.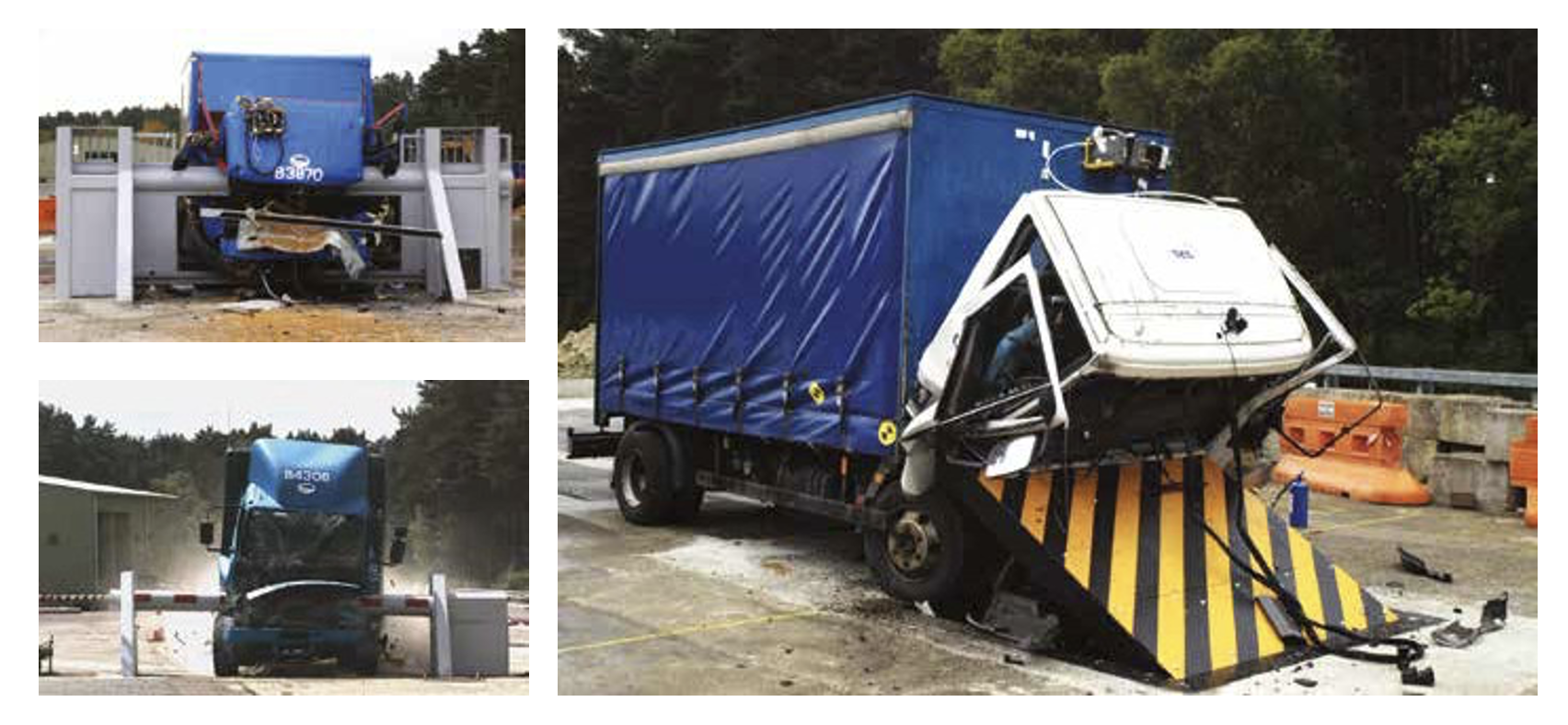 What are PAS 68 and IWA 14-1?
PAS 68 & IWA 14-1 have been prepared to respond to the needs of organizations that want to be confident that Safety Barriers (VSBs) will provide the level of impact resistance they require. In the United Kingdom, the CPNI (Centre for the Protection of National Infrastructure) in cooperation with other stakeholders created the PAS 68 classification. It has now been replaced by the International Works Agreement (IWA) 14-1, which combines elements of the PAS 68 and the American classification. ASTM 2656.
PAS68 and IWA14-1 specify the main impact effect requirement for VSB and the test method for evaluating its effect after exposure to a single impact by a driverless test vehicle. Performance ratings in PAS 68 and IWA14-1 are designed for each product that has been crash tested; this classification code should be available to confirm test results.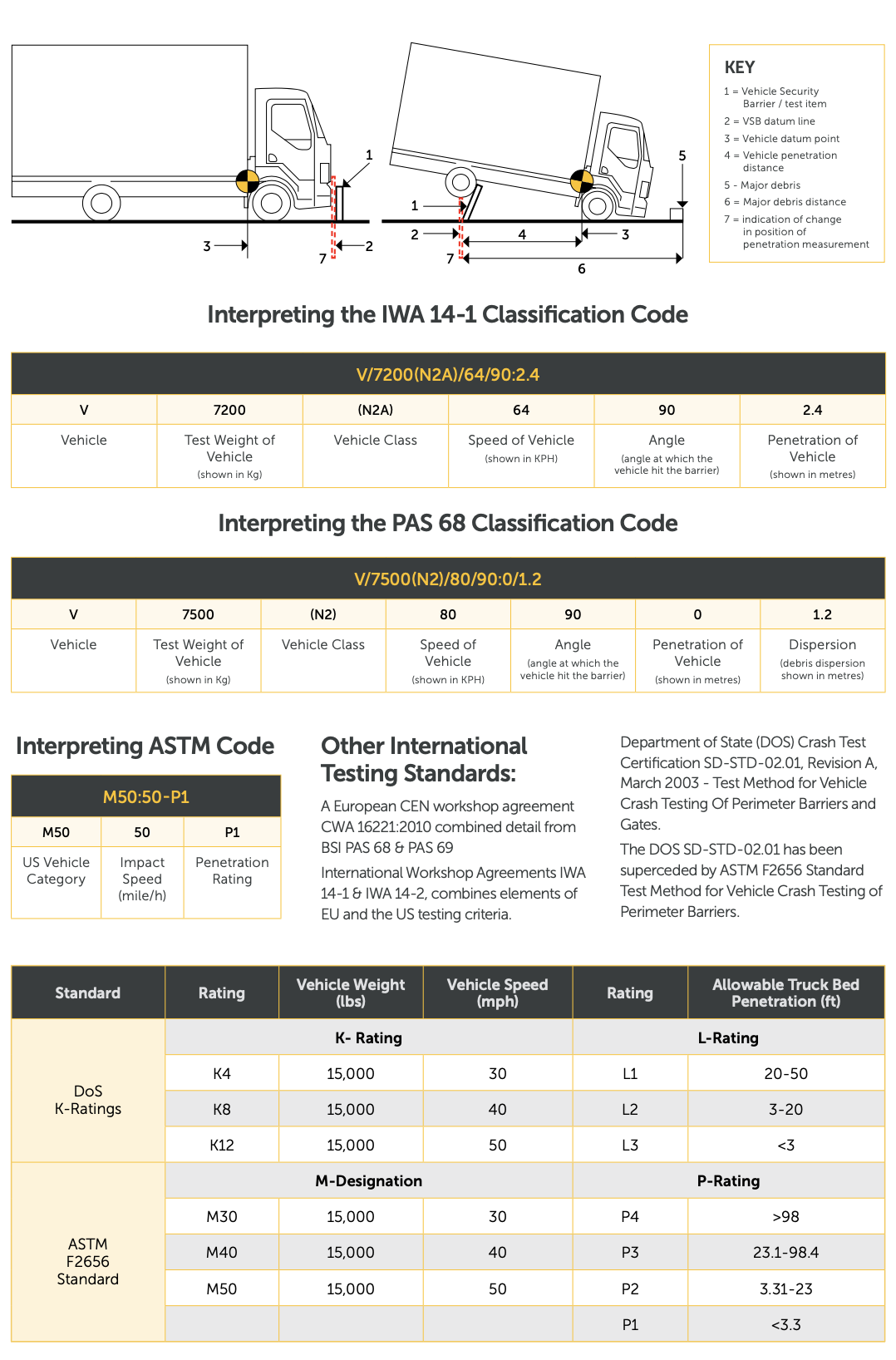 14.7.2022
Certificates ISO 9001 and ISO 14001
On 8 July, 2022 our company obtained ISO 9001 and ISO 14001 Certificates.
Quality management system and environmental management system of REWAN s.r.o. is certified by TÜV SÜD Slovakia s.r.o. according to STN EN ISO 9001:2016 and STN EN ISO 14001:2016.
The ISO 9001 quality certificate is the best known and the most used standard. Through the quality certificate the company demonstrates to the customers its ability to provide quality services or products and thereby proves its ability to be a reliable long-term partner for orders. The ISO 9001 standard primarily focuses on the quality management system in the organization. The quality management system focuses on all activities and processes in the company, i.e. managing human and financial resources, maintaining infrastructure, including buildings, transportation, hardware, software and other communication or information technology. Production and service planning as well as purchasing managment are also an important focus.
Standard is fully compatible with the standards of other management systems such as ISO 14001.
The ISO 14001 environmental certificate is an internationally recognized standard for environmental management systems. Its primary task is to identify and understand the environmental aspects that relate to the entire infrastructure of the company and all its activities, and thus to regulate the environmental impact on the environment. In its scope, the ISO 14001 standard creates conditions for setting the environmental goals and programs, the fulfillment of which is reviewed by top management a an indepentent body during internal audits at regular intervals.